Lag Ba'Omer remarks
By Phyllis Zimbler Miller, May 11, 2020
My father, Albert Zimbler, and my mother, Ruth Fishman Zimbler, were born three days apart in 1924 – my father in Chicago and my mother in a small town in Indiana.
They met during WWII when my father was in the U.S. Army Air Forces and my mother was in nurses training at Mt. Sinai Hospital in Chicago.
After the war my father was a CPA in the small town of Elgin, Illinois, where we lived from the time I was six months old and where three younger siblings joined the family.
In the last few years of my father's life he wrote humorous short stories, many about love and sex. Most of the stories are published in his eight short story books on Amazon. He also taught senior improv and did stand-up comedy.
When he died March 19, three weeks before my parents' 74th wedding anniversary, my mother said that she remembered reading in the newspaper about couples married 75 years and she wondered if she'd make it to then. She added, "I almost did."
The last time I saw my parents Mitch and I were in Chicago in September for our 50th wedding anniversary. In December although I had plane tickets to see my parents, both of them were sick and I was sick, so my father said they would stay well until my spring visit.
I did have plane tickets for my usual birthday visit in March, but had to cancel because of COVID-19. If not for that, I would have been there for my father's death in the hospital from sepsis. In a locked-down hospital my brother Jay stayed with my father for four days until he died.
Now my mother is about to start hospice in her senior resident apartment; she is eating very little and is down to 90 pounds.
In honor of both my parents, I'd like to read "180 Years of Advice" – the short words of wisdom that my parents shared with their family on their 90th birthdays in November 2014.
180 Years of Advice Link opens PDF, or click the image below.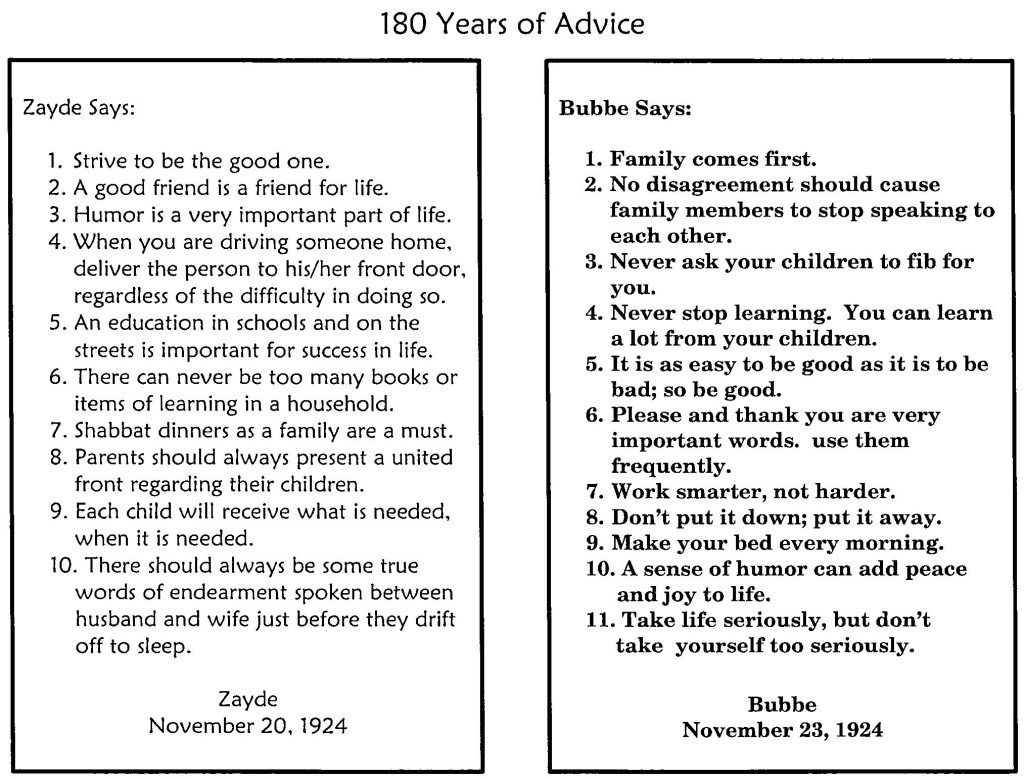 May my father's memory be for a blessing.